Message from Vanessa Hall, MAI, 2022 President
Fellow NCAI Members,
As the year closes, the North Carolina Chapter of the Appraisal Institute celebrates a great 2022! I would like to start with some thanks: Thank you to the NCAI Executive Committee – Jim, Mike, Kelli, and the Board of Directors – your support has allowed me to implement new ideas to help benefit the Chapter. Thanks to all our Region V Representatives that made themselves available not just for the quarterly meetings, but also for several special meetings this year. Thank you to our Chapter Members. Thank you to Efird Appraisals for being an annual sponsor this year. And a final thank you goes out to Sandy Hower and THM for their excellence in executive management and administration.
I enjoyed connecting with Chapter Members during virtual education, Chapter Business meetings, and at the J. Scott Robinson Installation Ceremony. Our continued focus at NCAI has been to provide the best experience for our members and our accomplishments this year were many:
We provided 17 courses and seminars including the USPAP update, Qualifying Education, and Continuing Education both in person and virtually, with residential-focused seminars as part of CE (Mike Elwell, Vice President, and Education Committee Chair).
We had our best sponsorship year at the REVC (Rocky McElhannon, REVC Committee Chair) with a great group of speakers headlined by Mark Vitner, and including presenters on some of our newer topics: Edward Martinez with Corelogic (Marshall Valuation) and Griff Jenkins with Tiverton Advisors (Agricultural).
We provided scholarships to six Chapter Members this year including two scholarships for the Capstone program (Miles Hamrick, Scholarship Committee Chair). 
Six Chapter Members obtained designations: Congratulations to Susan K. Martin, SRA, and Mary Frances Strand, SRA who received the AI-RRS designation; Jamie Vogel and Eric Randall who received the SRA designation; and to Erica Butler and Keith Bolte who received the MAI designation.
We offered 3 (free to Chapter Members) NCAI Connect webinars.
We supported the NCAB rule changes that made virtual education permanent and lowered the minimum CE requirement in NC to 2 hours.
Greyson Morgan is the Government Relations Chair that has steadily worked to get the dismissed complaints language updated.
We utilized social media to promote events and education and as an introduction to leadership with the Meet the Members initiative started by Erica Butler, MAI (PR Chair).
We attended NC State career fairs to introduce college students to the appraisal field.
The Western and Metrolina Branch Chapters led respectively by Laura Gourlay and Ashley Cooper each held events this year.
We filled the two BOD Mentee positions which are now officially included in the Chapter Bylaws, providing Practicing Affiliates access to the BOD as non-voting members (Jonathan Jones and Julie Lemonds).
We provided full monetary support to three LDAC delegates.
We provided free headshots at the J. Scott Robinson Installation Ceremony.
As a Chapter, we are operating on a sound budget with just over six months of reserves (Kelli Mayhew, Treasurer, and Finance Committee Chair).
I commend Vice President Mike Elwell on a strong education line-up and due to his class selections, we made a profit. The 2023 budget presented by Treasurer Kelli Mayhew (and approved by the BOD) allows us to provide a similar experience for the Chapter next year including continued support for our LDAC delegates, with both virtual/in-person education offerings, and increased Region travel. The Executive Committee has done a wonderful job this year. With 2023 Chapter President Jim Lynch, I know the Chapter is in very capable hands. Jim has been involved with the Chapter for several years, attending LDAC as a delegate for NCAI, and a past Candidate Guidance Committee Chair. Jim knows the importance of our Chapter Members and is committed to leading the NCAI into the future. 
There are also past Presidents to rely on for additional support and I'm thankful for them. Each President gets to experience their efforts come to fruition and I am proud of the work we've done. The rule changes at the NCAB will positively impact our operations moving forward. I'm excited to see the direction the industry is moving toward – more diversity and inclusion. Whether this is in the form of the AI Diversity Initiative, HBCU outreach, or PAREA (Practical Applications of Real Estate Appraisal), they are much-needed steps.
There are a few things that are still on the horizon such as the need for both Candidate Advisors and Supervisors for Trainees. To qualify, supervisors in North Carolina must hold the Certified Residential or Certified General license for at least three years before taking on a trainee, while you must hold a designation to be a Candidate Advisor. I've had valuable experiences as a supervisor and recently awarded my former trainee, Erica Butler, with her designation. I'm also a Candidate Advisor for another of my former trainees, Michael Sollitto. It's so rewarding to be involved with training our future – future appraisers and future leaders – and I encourage you all to consider it. We were all trained by someone, or we wouldn't be here. There was always another who came before us: past Presidents, past Supervisors, and past Advisors. Your knowledge is valuable and should be shared as we're all in this together!
It's been my honor to serve as your President this year.
Sincerely,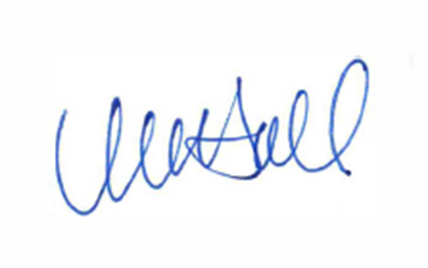 Vanessa M. Hall, MAI
2022 NC Chapter President
Share this post: